I didn't actually finish this book just now, but I was reminded of it recently and after looking it up on Goodreads, I saw it didn't even have a review there (now it does). Since this is one of my childhood favorites and it saddens me that not a lot of people seem to know it, I decided it deserves some space on my blog. I'm also toying with starting a Childhood Favorites feature of some sort on my blog so people have a chance to highlight those little almost-forgotten gems that impacted their childhood. If you'd be interested in showcasing a favorite book from you're childhood/youth, definitely drop me an e-mail at reviewsandcake@gmail.com!

If there's enough interest, it'll definitely happen! If not, I'll delete this part of the post and we'll never talk about it again.

Okay, so now for the actual review: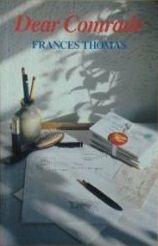 After a party Kate and Paul start to write each other. The letters reveal their very different political convictions, but even so they can't stop themselves from falling in love with each other.

(Goodreads keeping it short and snappy there.)
The main reason I like this (very short) book is that the two main characters manage to respect each other and establish a relationship despite the fact that they have vastly different world views. Even though their ideological perspectives couldn't be more different, they don't just SAY they'll try to understand each other, they actually DO. Try, that is, not understand each other. There's still a lot of fighting and casting stones (metaphorically) going on. Couple that with all the confusion and insecurity of first love and you have Dear Comrade.

That's another thing I like about this book – Paul and Kate's relationship is sweet without being annoying and develops naturally. Whereas the premise of the book can feel a little constructed at times, their relationship progresses organically as they begin to care more and more about each other. They often struggle to even stay friends, which of course makes it even harder once romantic feelings are involved. But when things get serious, they can rely on each other, which makes this story more romantic than a lot of things I've read recently. This book is basically the opposite of instant love. Plus, it's an epistolary story, so what more can you wish for?

4 out of 5 cupcakes to this novella!