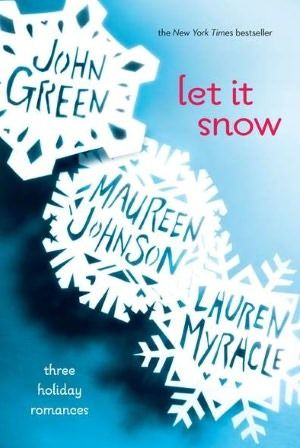 An ill-timed storm on Christmas Eve buries the residents of Gracetown under multiple feet of snow and causes quite a bit of chaos. One brave soul ventures out into the storm from her stranded train and sets off a chain of events that will change quite a few lives. Over the next three days one girl takes a risky shortcut with an adorable stranger, three friends set out to win a race to the Waffle House (and the hash brown spoils), and the fate of a teacup pig falls into the hands of a lovesick barista.

A trio of today's bestselling authors – John Green, Maureen Johnson, and Lauren Myracle- brings all the magic of the holidays to life in three hilarious and charming interconnected tales of love, romance, and kisses that will steal your breath away.
If you want to get on your holiday cheer with an easy read, then this is the book to enjoy while curled up in front of the fireplace.


While I'm not usually big on anthologies, I enjoyed the change of perspective in this book because there were only three short stories, and all of them were interconnected. I think I've read all of John Green's books, but I hadn't read anything by Maureen Johnson (though I've heard of her) or Lauren Myracle (who I had never heard of, but was destined to write this by virtue of her last name). While I didn't hate the first short story, and it was kind of cute at times, it was a little bit too predictable and insta-love for me. In fact, Predictable-with-a-capital-P is a theme in Let It Snow. Of course you expect a happy end in a book like this, and I would have been disappointed with anything else, but I still would have preferred if things had been just a tad less clichéd because I think the writers would have had the skill to pull it off.

That said, I still enjoyed John Green and Lauren Myracle's stories a lot. John Green's story had the more likeable characters and the road trip-y kind of feeling from Paper Towns (albeit it is a very short road trip), and Lauren Myracle's story did a good job of tying up all the loose ends while still managing to convey her own spin on things. I think the thing I liked most about her part of the book, is that her protagonist was called out on her annoying behavior and made an effort to change; something I didn't expect from the first few sentences of the story. It also made me want to get a pig, but that's beside the point. Did I ever tell you about the guy who had a pig named Schnitzel? But I digress, let's proceed to the rating.
Due to its predictability and the fact that Let It Snow is chock-full of overused clichès, I cannot give it more than three and a half cupcakes, but I can definitely recommend it if you're looking for some light holiday reading!