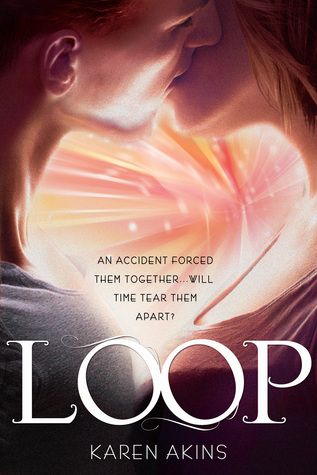 At a school where Quantum Paradox 101 is a required course and history field trips are literal, sixteen year-old time traveler Bree Bennis excels… at screwing up.

After Bree botches a solo midterm to the 21st century by accidentally taking a boy hostage (a teensy snafu), she stands to lose her scholarship. But when Bree sneaks back to talk the kid into keeping his yap shut, she doesn't go back far enough. The boy, Finn, now three years older and hot as a solar flare, is convinced he's in love with Bree, or rather, a future version of her that doesn't think he's a complete pain in the arse. To make matters worse, she inadvertently transports him back to the 23rd century with her.

Once home, Bree discovers that a recent rash of accidents at her school are anything but accidental. Someone is attacking time travelers. As Bree and her temporal tagalong uncover seemingly unconnected clues—a broken bracelet, a missing data file, the art heist of the millennium—that lead to the person responsible, she alone has the knowledge to piece the puzzle together. Knowledge only one other person has. Her future self.

But when those closest to her become the next victims, Bree realizes the attacker is willing to do anything to stop her. In the past, present, or future.
This review contains spoilers.

You had me at time travel academy! I found this book on Goodreads First Reads a few months ago. I didn't win it (obviously), but I bought it anyway because the premise sounded fun. I had to struggle through some university books before I finally got around to this one, but it didn't disappoint! Loop is an entertaining, fast-paced read that contains a lot of action and wibbly-wobbly, timey-wimey stuff.

Let's get the bad stuff out of the way first: the plot can be very predictable at times. If you've read Harry Potter and the Sorcerer's/Philosopher's Stone, you'll immediately know who ISN'T the villain (seriously Quigley=Snape in this storyline). It's also clear who the actual villain is from, like, chapter 3, but I still wanted to know what happens because I didn't know the how and why of it.

Great, now we've got that out of the way, let's move on to the strong sides of this book. It's not necessarily a deeply profound book that will change the way of how I perceive the world forever, but it's entertaining and that was exactly what I was looking for. Let's have a list of what I liked about it!

The world-building was very pleasant. I really appreciated that the reader gets enough information to imagine the world without being underestimated. I always feel like an author is patronizing me when there's too much information on how everything works, and this wasn't the case with this book at all. (On a side note, I totally want a pegamoo.)

The Romance is sort of cute and not annoying. Bree's love interest basically just tags along for most of the book while she slowly falls in love with him, but their dynamic is a little off because he already knows and is in love with her, while she's just meeting him for the first time. Oh, the woes of time travel. Unlike other protagonists, they don't neglect everything else to make out, but actually focus on all the important things that are happening (and then make out).

The action kept me reading until well into the night because there was always something happening and it never really got boring.

The timeline was all over the place in a good way. Bree is constantly struggling with the frustration of her future-self dominating her actions. In that sense, it reminded me a little of Trial by Fire, in which Lily is facing her parallel universe version of an evil twin. Bree never really comes into contact with her future-self, but other characters in the novel do and boy, does it piss her off.

I loved trying to figure out when what happened and how it's all connected. The book heavily hints at the overall series arc, but still has a more-or-less satisfying ending itself. I didn't know this would be a series when I started it, but I'm definitely going to check out the sequel whenever it comes out!

I ate half a cupcake in the spare time I didn't need to figure out who the villain was, but I still left four and a half because I was too captivated by the rest of the book to munch on them.