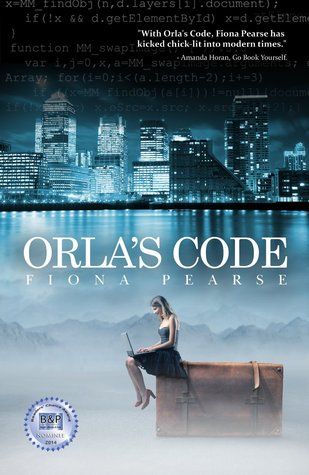 "If you want to get ahead, get noticed," is Orla Hanlon's motto. New to London and the first female programmer at CouperDaye, a global investment bank, she takes on a high-profile but controversial project.
With her new luxury apartment and a work-romance quietly on the side, Orla thinks she has everything under control.
Until a bug in her code causes chaos on the trading floor and Orla finds herself a scapegoat in a corporate game, fighting to save her new life in London.
I bought this book mainly because of the programming aspect and because the blurb sounded intriguing. I'm not an expert on coding, so I can't tell you whether the author got it right or not, which is why I'm only going to talk about the story itself.


While this isn't a five star book, it was a fast read. Mostly because it was entertaining, but also because it's just a really short book. That doesn't have to be something negative, but with this book I sort of wish the author had fleshed it out a little because I think it could have been great.

The main focus is on Orla's career and the frustrating mechanics of the company at which she works. That part of the story was enjoyable, even if the ending was a little predictable if you've read The Undomestic Goddess by Sophie Kinsella (which you should).

There are, however, two subplots, both of which were a little weird. The first one centers around Orla's move into her new home and the running club she joins. The second one describes her affair with an anonymous lover from work. The problem I had with both of these is that they were unnecessary. It felt like they were only there to add more pages. I thought maybe there would be some big reveal on how the people from the running club are involved with Orla's drama at work or something along those lines, but the stories weren't connected at all. I mean it's completely fine to show a different side of her life, but it just didn't add much to the book.

There was a Big Reveal at the end of the book when it came to who the lover was, but it just made me go whaaaat and turn back to the beginning to see whether it actually made sense. I suppose this is a love it or hate it kind of situation, but I didn't really understand why it was necessary to keep the guy anonymous – I actually think it would have added more suspense and tension to the book if he hadn't been.

The other problem I had was with Orla herself. It's not that I didn't like her, it's more that there wasn't enough to like. Her personality felt a little bit like the empty apartment into which she moved at the beginning of the book. Unfortunately, unlike the apartment, her character doesn't become "furnished" throughout the story. I found it hard to connect to her.

For the former reasons, I can't give this book a higher rating, but I did like it, so don't hesitate to read it if the blurb sounds good to you.