You know those weekly wrap ups and update posts? Well, I've been wanting to do something like that for a while, so here it is!




I feel like I'm introducing a new feature every other day, but hey, I'm still in the learning process; cut me some slack. Cake Conversations gives me a chance to show off my new books STS style and tell you about exciting things happening in my life. Basically, it's just rambling in disguise.

When I started this blog, I had some vague notion of what the name Reviews and Cake could actually mean, but I never really explained it until now. I figured the Reviews part would be …well, reviews, but the Cake part would actually mean all the other stuff, like things I'm excited about, personal updates and basically just everything you'd tell someone over a slice of cake and a cup of coffee. So YES there's some sense in the name in case you were wondering. However, for some reason I'm always insanely proud when I can include actual cake, and today is one of those days.

Cake!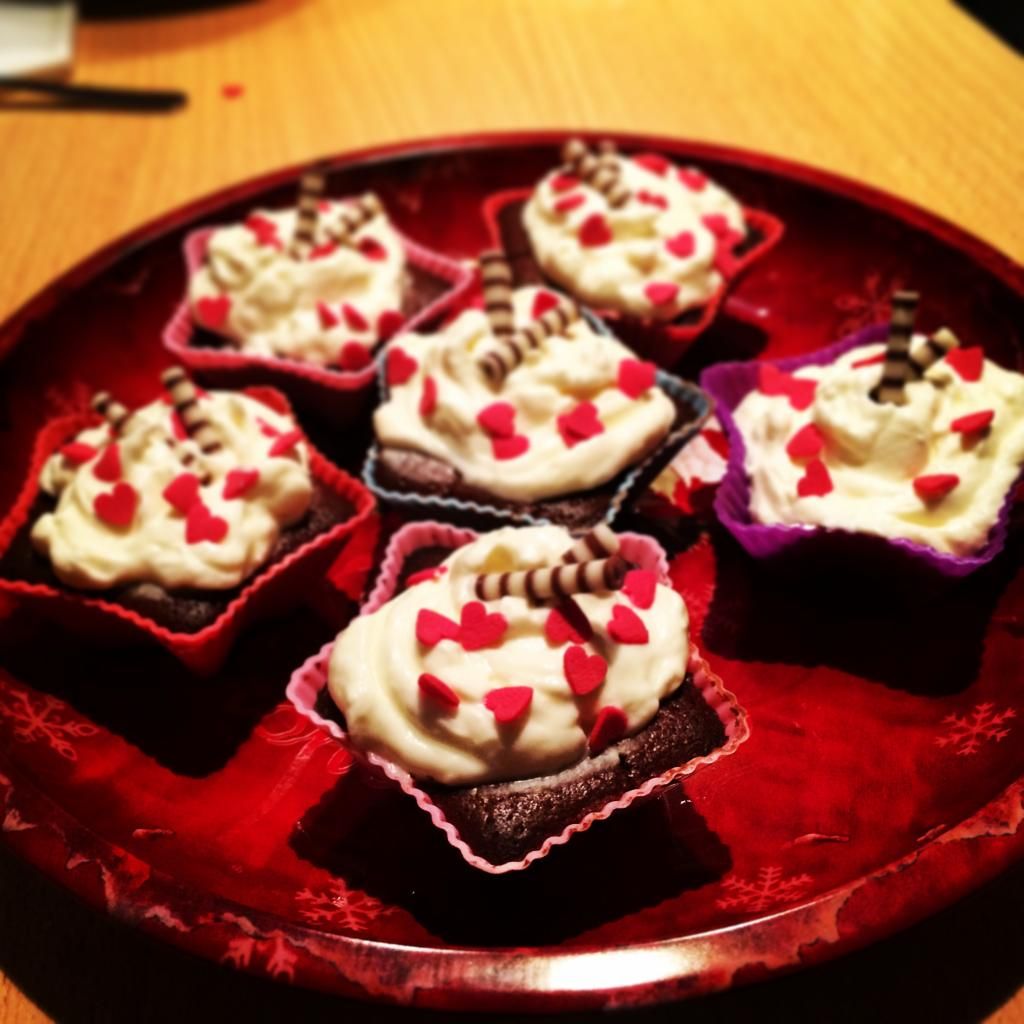 I'm not a passionate baker, and I don't do it that often because it doesn't really make sense to bake an entire cake for myself and possibly one or two other people. However, every other month I see a recipe I can't resist. I tried to make red velvet cupcakes this time because I don't know where to buy good ones here. I only had them like once, and that was in England. Those were DELICIOUS and soft and creamy and ALL THE GOOD THINGS. The ones I made however… They're not red. Like, not even remotely. Also, they taste alrightish, but they would have needed a few more minutes on the inside even though they're almost too hard on the outside. They actually tasted okay after I put them in the fridge for a few hours, but it's not the soft-creamy dream of a cupcake I imagined. I think I managed to make them look pretty with the fancy decorating stuff I had leftover, so there's an upside. I gave the neighbours half because I'm a good neighbour like that (also remember when they brought me pizza?), and now I still have way too much, but I feel as far as problems go, that is not the worst one you could have.

Books!
Since we're already on the topic of pretty things: I got new books this week! Have a look: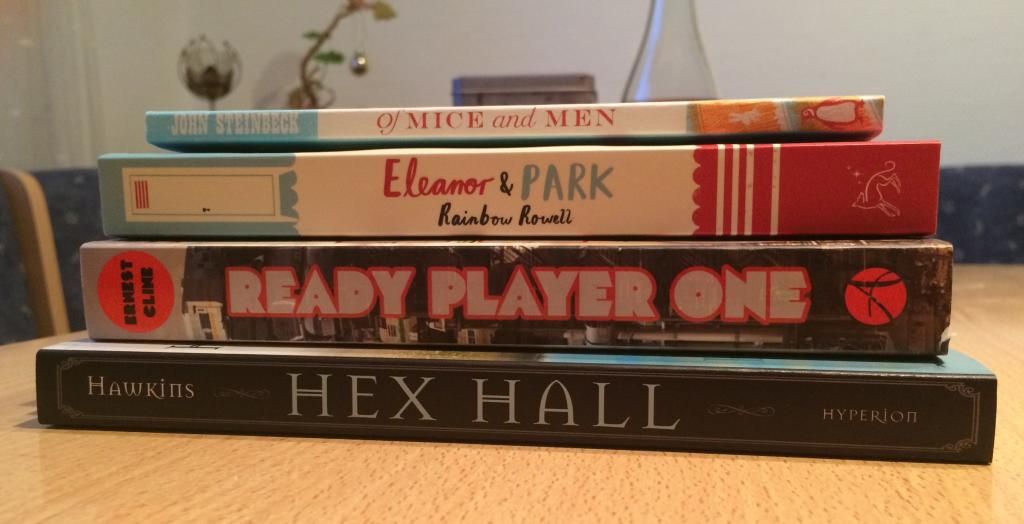 From the bottom up: Hex Hall by Rachel Hawkins, Ready Player One by Ernest Cline, Eleanor and Park by Rainbow Rowell and Of Mice and Men by John Steinbeck.

I am very happy with all of these books. I chose Hex Hall because I'm a total sucker for any story, in which the characters have to attend an academy to learn how to deal with their paranormal abilities. Something else I usually like are stories about futuristic online games and technology, and Ready Player One combines that with what sounds like an EPIC quest. I have no idea how the existence of this book went past me before, but I have it now, so all's good. Eleanor and Park made the list because I read Fangirl by the same author recently and loved it. I'm very happy with the edition I received because I really like the color scheme, and I think it's prettier than the other version. And then, of course, we have Of Mice and Men. I've been meaning to read more classics, and this one sounded like I might like it. I also really like the cover because it has a great quote on it:

'Maybe everybody in the whole damn world is scared of each other'
I think we often limit ourselves because we're scared of what other people might think, and we really shouldn't be, so that resonated with me. Which is a great segue to my next point…

…YouTube!
One of the scarier points on my 2015 goals list is "make YouTube videos". Even though I love YouTube and I'm a total addict, the thought of making YouTube videos myself didn't really occur to me for a long time. I technically know everyone can upload a video, but somehow there's still this barrier between watching all that really great stuff and having a chance to contribute to it in my mind. Maybe it's because I watch YouTube in the same way that I watch tv shows or movies, and with those you don't often have that easy opportunity to create something yourself. Then of course, I didn't even know where to start. What camera to use and how to get one cheap, what editing program, and what would I even talk about? What if people are commenting rude things and it upsets me? What if someone I know finds the videos and laughs at me? What if I can't upload regularly? What if the videos don't look professional, and I don't have anything interesting to say? What if no one ever watches my videos in the first place?

All of these things still apply to an extent, but my solution to all of it is very simple: Fuck it. I discovered booktube, so I'll have something to talk about – books. Also: movies, tv shows, random things! I'm sure I'll find something, and if I don't, I don't have to make a video. I discovered this video about how to create videos with an iPhone and remembered one of the reasons I got my phone was because it has a good camera that films in HD, so I don't need to get something expensive. If people leave stupid comments then that's their problem, not mine. I don't think I could have dealt with it very well a couple of years ago, but these days I'm a little better about not letting things like that get to me too much. There's decent free editing software out there and tons of tutorials on how to use it. If someone I know makes fun of me because of something I like doing, that's someone I don't need in my life. When (and I say when, not if, because let's be real) the videos aren't perfect, that's fine. It's a learning curve, and if I wait until I create something perfect, I'm never going to create anything at all. And if no one watches it – whatever, I'll still have learned something and had fun doing it.

It's still weird, and there's definitely still a lot of self-doubt and can-I-actually-upload-this involved, but for all of the above reasons I decided to do it anyway. I already filmed some videos (with the help of my roommate, who also makes an appearance), and the only thing holding me back right now is that I cannot for the life of me come up with a name I like, as well as the fact that I have to write several term papers and study for an important exam. But it's happening and it's happening in the near future, and I'M EXCITED.

On the Blog
I'm hosting a Link Up! It's about YOUR reading habits, so if you're like me and you like to go on and on about yourself, make sure to check it out and spread the word!
I also introduced a new feature (see what I mean?) called Date the Character, in which I fill out online dating profiles for our favorite bookish characters, and then YOU get to guess who they are and decide who you'd take out on a date. This week's lonely hearts have already been revealed, but I think it's going to be a regular thing.
If you happen to be a nerdfighter, you might be interested in the European Nerdfighter Convention that's taking place in Brussels this July. There's not a lot of information available yet, but if it's going to be as awesome as it sounds, I might consider going.
Alright, that's all for now! Let me know about the interesting things happening in your life, any great books you got and random thoughts that ocurred to you in the comments below, because – if you haven't guessed that by now – I love to talk.



Stacking the Shelves is hosted by Tynga's Reviews