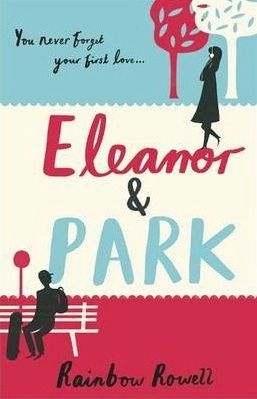 Eleanor is the new girl in town, and with her chaotic family life, her mismatched clothes and unruly red hair, she couldn't stick out more if she tried.

Park is the boy at the back of the bus. Black T-shirts, headphones, head in a book – he thinks he's made himself invisible. But not to Eleanor… never to Eleanor.

Slowly, steadily, through late-night conversations and an ever-growing stack of mix tapes, Eleanor and Park fall for each other. They fall in love the way you do the first time, when you're young, and you feel as if you have nothing and everything to lose.
It has now been several weeks since I've read Eleanor and Park and I STILL can't decide how I feel about it. Some parts of the book were phenomenal and others were… not. Let's break it down!

The Luuurve
During the first forty or so pages I thought this was going to be exactly my kind of book. Eleanor and Park meet on the school bus, and they're SO ADORABLE. Trust me, it's not often that I gush about the romance parts of books, but I was smiling like crazy, because it was exactly the kind of romance I like. Not to cheesy and tons of showing instead of telling. And then the book did a 180, and I started feeling kind of disappointed in the love story. I don't know whether it's my old self-esteem issues raising their ugly head, but it just seemed more like wishful thinking than something that would actually happen. And – and I have no idea why – sometimes Park's lovesick thoughts and idealization of Eleanor made me feel uncomfortable like hell. Again, maybe it's just a personal issue, but even disregarding that the romance turned very cheesy at some points. I didn't really feel like Park got to know Eleanor that well, simply because it didn't seem like she WANTED him to. And that made complete sense for her character, but for a lot of the book it felt like Park was in love with some version of Eleanor he was creating in his own head rather than the actual person. Of course that DOES often happen in real life (the question of whether we can ever really know another person is basically why John Green wrote Paper Towns), but it made me dislike the romance I thought I would love in the beginning. I also thought Park was pretty selfish at times, especially when it came to his friends.

The Family
This is where this book excels. I thought this book would be more of a happy go lucky story, but Eleanor's home life is the exact opposite of that. Without wanting to give away too much, Rowell creates a bleak atmosphere that was way too realistic for comfort at times. The issues Eleanor has at school were hard to read about for me, and the problems she's facing at home are something no one should be forced to deal with. It just makes me want to pat Eleanor awkwardly and tell her it's gonna get better. Park has his own, very different problems at home, but everyone in his family tries to do the best they can. These parts of the book were raw and horrible and beautiful.

The Verdict
Even though I had my issues with the romance, I didn't HATE Park and Eleanor as a couple. The writing is smooth and the problems the characters go through really affected me. I don't exactly have positive associations with the book when I think back to it, but it's a good book, and I can't deny that I read it in one day. If you're prepared to have your heart sliced wide open, I can recommend this book. Just don't expect a fluffy, happy read like I did.