Welcome to TV Show Thursdays, where I discuss TV Shows, review episodes and give my commentary on anything TV Show related!


Happy Endings is one of the most underrated shows I've ever come across. No one I know has ever heard of it, let alone watched it, so it's one of those I'm-the-only-person-in-my-fandom situations. I started watching it without realizing there were only three seasons and was completely dumbstruck when it suddenly ended. Still, there are three seasons, and they're worth watching, so I'm giving it a shout out here.

What it's about
You know how every TV show featuring an ensemble cast of friends gets compared to Friends? And how there are so many of them? Well, there's a reason: a lot of times they fail, but when they work, they work (see: HIMYM). Happy Endings is one such show. It starts off with Alex and Dave at the altar, ready to get married. Only things don't go according to plan, because Alex runs out on him, jeopardizing not only her relationship with Dave, but the entire dynamic of their clique. (Isn't clique such a nineties word? I'll keep it in here just because of that. And because I can't think of another one at the moment, but psht.)

The Characters
Other than Alex and Dave, we have Brad and Jane, a power couple that is – and I don't say this lightly, because it sounds like I'm desperately trying to be cool – relationship goals; Penny, whose main goal in life it is to have a successful relationship; and Max, who is basically the Nick of the group if you're watching New Girl (so a lazy layabout who doesn't have any ambition other than to defend his meatball sandwich – basically my kind of guy). So far so standard, but the Happy Endings characters are phenomenally funny, likeable and entertaining. I won't be able to do them justice by describing them, so I'll say it with gifs.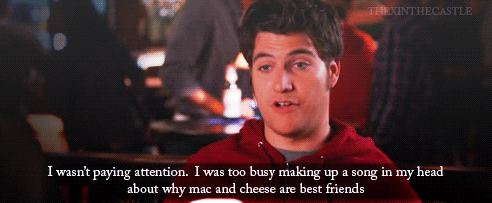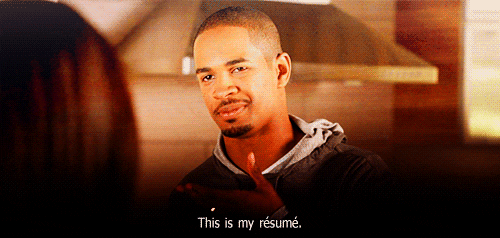 Why You Should Watch It
Because it's chock-full of actually funny jokes, one-liners and pop culture references. You'll start to really care about the characters, and then they will be ripped away from you, but life is pain, so you'll deal with it. I'm currently rewatching it, and I don't remember if it at least had a satisfying ending or not, so if I whine about it in a couple of weeks, remind me I said that. And who knows? Maybe if enough people watch it Netflix will pick it up and continue it. Miracles happen.