Remember waaaay back in December when I talked about wanting to watch The Imitation Game? If you need a quick refresher on the basic premise of the movie, check out that post. Anyways, I finally watched it!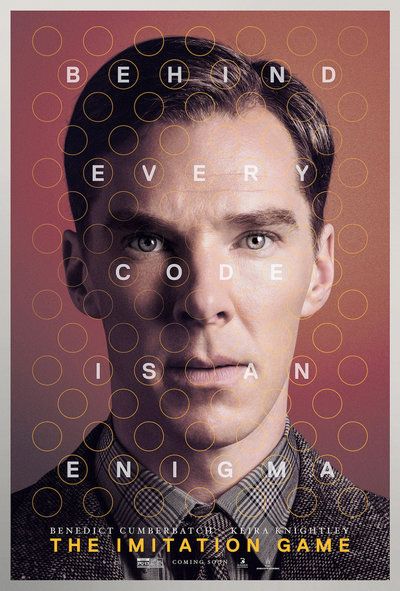 …and OH MY GOD WAS THIS MOVIE GOOD.

It was everything I expected and more.

Great Acting? Check.

Coding? Check.

Frenemies? Check.

A TEAR MY HEART OUT BECAUSE I'M DYING OF ALL THE FEELS story? Doublecheck.

It's no surprise that Ben rocked the role like Axl Rose on his best day, but I was really suprised that Keira Knightley was right up there with him in terms of quality acting. Now I knew she can't just play the damsel in distress and she's had some good roles before, but out of all the movies I've watched with her, this was definitely her best performance.

I'm not going to go into the end of the movie or the great twists and turns throughout because I want you all to enjoy the full experience, but trust me when I say it's great storytelling. At times I knew I was being emotionally manipulated (okay basically the entire point of a movie is to emotionally manipulate you, but you know what I mean), but I didn't care. It was just heartbreaking and awesome and did I mention it's a good movie? It's somewhat anachronological and it took me until the middle of the movie until I understood the exact timeline, but I think it was mostly well done. The soundtrack wasn't revolutionary, but in this case I don't think it was a mistake to go with what worked before.

For some reason I kept being reminded of other movies while I watched it. Like, at the very beginning of the movie there's a scene where a newspaper boy calls out 800 000 children evacuated and you can see the station with the trains leaving and I couldn't help but think meanwhile in Narnia. And then later you can see kids with gas masks and how can that NOT remind someone of Are you my mummy? (unless that person has never watched Doctor Who, I guess, but in that case what are you even doing with your life)? Then there's this revelatory scene in a bar that reminded me of A Beautiful Mind (which, by the way, is also a very good movie).

The Imitation Game is nominated for 8 Oscars, a fact I'm very happy about. I never cared much about the Oscars, but I'm planning to watch them this year, and I will SO be rooting for this movie to win a couple of awards.

Have you watched the movie yet? Are you planning to? And what do you think about the Oscars – must watch or totally irrelevant?