What's New?
What do you mean I haven't updated in weeks. Are you sure you didn't just get stuck in a tumblr spiral and now it's suddenly two weeks later than you thought? Yeah, I had a feeling.

Things have been semi-busy what with the internship and rewatching about a hundred YouTube videos, but I thought I should probably pop in here to give you this incredibly exciting update on my life. y'all can hear my sarcasm even when I'm writing, right? Okay, good. Alright, let's check my calendar reminisce to see what I've been up to! Last weekend, I was at a live broadcast of a local event for the radio, and I did a few interviews with the participants. At first I was a bit out of my comfort zone, but then I got more used to it, and I think I did fine!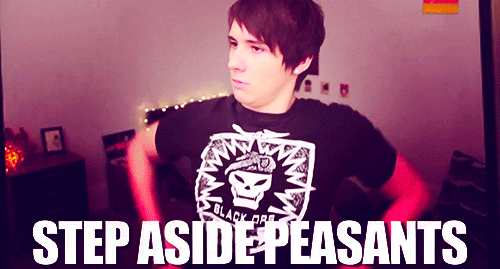 I'm thinking about asking whether I can do my own radio show every couple of weeks, just for practice and fun, but I have to come up with a concept and pitch it at a meeting and and and, so we'll see. Let me know if you have any fun ideas for it though!

The Shiny
This is gonna be a music themed one. Remember when I got bomb headphones and had to return them, because they were on-ear, which hurt my ears too much, so I cried for three weeks straight? Probably not, but that's more or less what happened minus the crying part. I cried INSIDE. I didn't think I could afford another pair, BUT I was editing an audio clip at work and the headphones I was using weren't too bad, so I looked up how much they cost and they were literally twenty bucks. Obviously I had to buy them.





The only downside is they're studio headphones, so they've got an obnoxiously long, thick cable that sounds wrong, so I proooobably won't be able to use them much when I'm on the go. I can still use them for video editing and random listening to music though. There are few things that make me as happy as good music in good quality!

To go with the headphones, I also bought two new albums, which I can HIGHLY recommend.



These two albums are both SO GOOD. I think it's safe to say that Drones is my favorite Muse album. Or is it? maybe I should relisten to the old ones. The first two thirds of it are just IN YOUR FACE in a good way, whereas the last couple of songs are much more quiet and contemplative. The only song I don't like too much is Drones, but I feel like that's probably just because it's not my cup of tea. That's actually a problem I have with quite a few Muse songs, but I do also love some of their older stuff, which is why I've always felt a bit ambiguous about them. Definitely don't feel ambiguous about this album though! Favorite songs: Reapers, Dead Inside, Psycho and The Handler.



I kept stumbling upon twenty one pilots recently, and I've been listening to some of their songs, but when I was listening to a random playlist on 8tracks, and the only song that stood out to me turned out to be a twenty one pilots song, I decided to finally buy the album. NO REGRETS. The whole thing is just a masterpiece. My favorites are Heavydirtysoul, Stressed Out, Doubt, and Message Man, but pretty much the entire album is phenomenal. I love the mix of genres and styles and just YES.

On the Blog
Aaaand here we go, a list with exactly one point again.

I reviewed Vicious by V.E. Schwab, which is a very good book. Did you know there's a sequel coming up? I'll definitely be reading it.
I also posted another video, so in the interest of looking like I actually did something since we last talked I'll leave that here as well.





It's about social awkwardness. The awkwardness in the video is unrelated.

Tune of the Week
I was going to rec you a Muse or twenty one pilots song here for obvious reasons, but I just listened to Three Cheers for Sweet Revenge for the first time in ages, so I'm going to go with my favorite song from that album instead. Do give the other stuff a listen as well though, it's fairly awesome.





I don't know why I haven't listened to this band in so long. Maybe because it reminds me of my teenage years, because who wants that. They're really good though. I just spent the last two hours trying to remember whether I saw them live, and I've now concluded I saw them live twice. I should probably be worried about my memory. Don't let my befuddled mind fool you though, I DO remember that I really liked the concerts.

How have you been? Do you know/like these bands/songs? Is your memory better than mine? It probably is, who are we kidding here. Any music recs?

I'm linking up with the Sunday Post hosted by the Caffeinated Book Reviewer!