I love recommendations, so I thought I'd share some of the books I have read this year with you. None of them are very recent, but I enjoyed them all immensely and I hope you will too if you decide to pick them up (or that you did if you already read them).

Bitterblue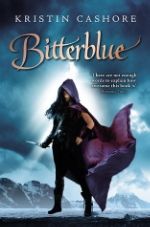 Bitterblue is finally old enough to take over the reign of her kingdom. The only problem is her kingdom is a frickin' mess. Her advisors are being mysterious, her subjects are illiterate and hungry and her father has left the country scarred beyond comprehension. It seems that Bitterblue will need to dig up some ugly truths if she ever wants to lead Monsea to a better age…
I read this book after a long dry spell in which I didn't read a lot of books and the books I did read weren't terribly good. I was at the point where I started to wonder whether I just didn't enjoy reading anymore. Then came along Bitterblue. It was the first book in a really long time that I loved. This book has all the good things. A young queen who sneaks out of the palace in disguise to get to know her people? Check. A mystery that has to be unravelled? Check. Character development? Check.

What I liked:

The Romance. Or rather, the lack thereof. Bitterblue has a love interest and stuff happens, but it's not where the focus lies and it's integrated into the story naturally. There are actually other things happening that take precedence and this is one of the books that lets the heroine acknowledge that as she struggles with the responsibility of ruling a kingdom.

The Mindfuck. I read both Graceling and Fire a couple of years ago, so I know what's up with Leck. But the other two books didn't really delve into what he did to his own people and how it might have impacted them in the long run. Cashore creates an eery atmosphere that is most prominent in one of the very first scenes, in which we see Bitterblue and her mother while still with Leck.

The Character Development. I had to leaf through Graceling again to remember Bitterblue's part in it. At the beginning of the book, I was a little disappointed because Bitterblue was so much more badass as a child than she was at the beginning of Bitterblue. But then her character made complete sense to me and she really grew into her role as Queen of Monsea and as a young woman in general.



Nervous Conditions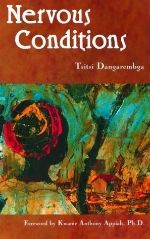 Set in colonial Rhodesia during the 1960s, Nervous Conditions centers on the coming of age of a teenage girl, Tambu, and her relationship with her British-educated cousin Nyasha. Tambu, who yearns to be free of the constraints of her rural village, thinks her dreams have come true when her wealthy uncle offers to sponsor her education. But she soon learns that the education she receives at his mission school comes with a price. At the school she meets the worldly and rebellious Nyasha, who is chafing under her father's authority. The two girls couldn't be more different, but they quickly become close and struggle with what it means to be a woman in their society.
I found this book in a book exchange in a hostel in Colombia, so I have no idea whether it's a total classic or something few people have heard of. (Probably the former.) I had bought a Spanish copy of Vampire Academy a few weeks prior to improve my (very fundamental) Spanish and I figured if I read something I already knew I'd understand it. Then my money ran out and I got bored and the book wasn't really doing it for me, so I exchanged it for Nervous Conditions. There was a rule to only exchange books for books of the same language, but I'm a rebel, yo. The title instantly spoke to me and the very first sentence convinced me I had to read the book.
The Complexity. Nervous Conditions rarely paints someone purely good or bad. The contradictions and inconsistencies of Rhodesian society are explored in a way that keeps things interesting. Tambu herself mirrors those contradictions as she grows up: she respects the rules of her society and wants to fit in, but sometimes she can't do so without betraying herself.

The Women. While the book certainly contains a variety of interesting male characters, it focuses mostly on the experiences of the women in Tambu's family. We get to see how each of them handles their situation differently, from Tambu straining to get a good education over Maiguru, who is educated but trapped, to Nyasha, who feels severely out of place in Rhodesian society after coming back from England. My favorite element was the relationship between Nyasha and Tambu because it was so ambivalent. It seems like they care about each other a great deal, but never manage to build something entirely solid on their experiences together.

The Narration. Usually I would mind the fact that the timeline is all over the place, but for some reason it worked for me in this book. Tambu is a narrator who reflects on what happened rather than experiences it at the same time as the reader, so she gives information in advance and comments on her actions or those of others from a distance and with an understanding that wouldn't be possible if she were in the moment with us.



Fingersmith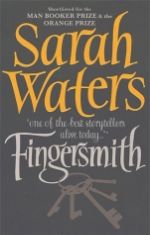 London 1862. Sue Tinder, orphaned at birth, grows up among petty thieves — fingersmiths — under the rough but loving care of Mrs Sucksby and her 'family'. But from the moment Sue draws breath, her fate is linked to that of another orphan growing up in a gloomy mansion not many miles away. As she gets sucked into a scheme that is bound to end in disaster for someone, Sue has to make some hard choices that might end up changing the course of her life – and those of the people around her.
I actually put off reading this book for quite a while. I must have brought it on two or three holidays without ever reading more than a couple of pages before setting it down again. I'm so glad I finally convinced myself to read it because it's effin' GENIUS. Most people have probably already read it, but if you haven't just go and do it now because you will not regret it.

I'm not going to tell you what I loved about Fingersmith because I think it's best to read this book without knowing anything in advance. So instead I'm just going to tell you that the high ratings are well-deserved and this book is not what you expect it to be. It's so, SO much better. If you already read it let me know what you thought in the comments!