I used to think I'm a fast reader.

In class, I was always among the first to finish a text. I read constantly at home, so it made sense that I'd be a speedy reader, right? Then, a couple of years ago, I was rudely awakened when I read the same text as someone else and they finished before I was done with the first quarter. A little later, I stumbled upon the Staples Speed Reading Test, and it confirmed my deepest fears: I'm a slow reader. DUN DUN DUN. I'd excuse myself by saying that English isn't my mother tongue, but I read more in English than in German these days, so …I can't.

For no particular reason at all, I decided to write a review of some of the speed reading tests my quick Google search yielded. It's 1 am. I should probably go to bed.

The Staples Reading Test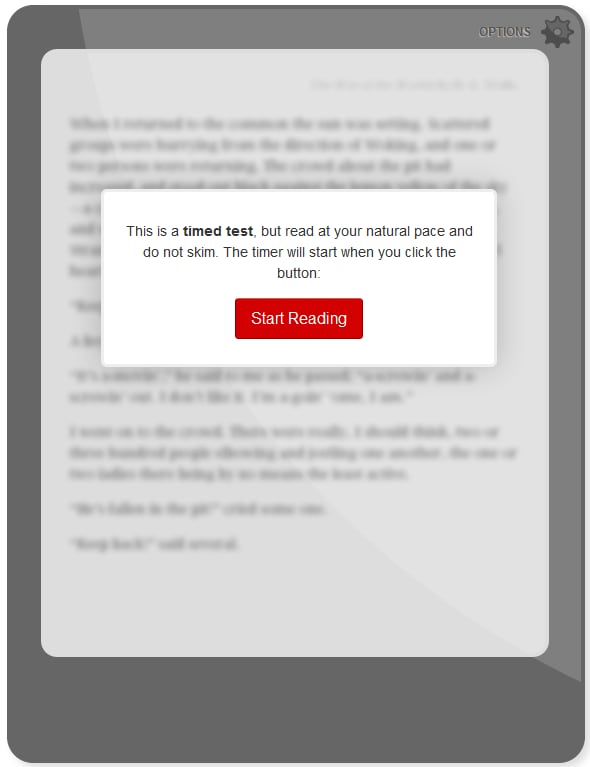 Source: Staples eReader Department

As mentioned, this was the one that started it all. I have no idea how many words I got the first time, but I just did it, and I got 349 words per minute, which, according to Staples, is at around the level of an 11th grade student. Then again, 11th grade students apparently read faster than the average adult (??), so at least I'm faster than the average adult. I like their design and they show you how long it would take you to read certain books and how often you'd need to recharge your ereader, which is interesting.

The text you read is from a classic and they ask three comprehension questions afterwards. I keep getting Wells's The War of the Worlds, but you can switch it to Alice's Adventures in Wonderland or The Wonderful Wizard of Oz. I switched to Alice in Wonderland, because I can't with Wells, and I actually read faster, which makes sense, because the writing is easier to comprehend as there aren't places and people I'm not familiar with, so my brain doesn't go WHAT. It now says I'm reading 400 words per minute, so I'm somewhere between 11th grader and average college student and 60% faster than the average adult. Go me. I also answered 3 out of 3 comprehension questions right, which I didn't when I read Wells. Maybe I'll catch up to the other college students if I keep practising.

The Wall Street Journal Reading Test
This Wall Street Journal Test gives you a random excerpt from a Wall Street Journal article. The first time I did it, I got a random text about marathons I couldn't have cared less about and got 208 words per minute with 2 out of 3 comprehension questions answered correctly, which puts me somewhere between a fifth grader and average speed. The second time I got a text about conference calls in the business world that interested me slightly more, so I got 272 words per minute with all comprehension questions answered correctly. I am now reading at an average level. Amazing, how fast you can improve.

I then tried one of their speed reading tips, which was to pretend that there's a line going down the middle of the text and to use your periphal vision to see how many words you catch instead of moving your eyes from side to side. Quite frankly, I found this an entirely stupid tip, as I could not comprehend any words that way, so I hit the Done button early and got a score of 812 words per minute. Astonishing. I still answered 2 out of 3 comprehension questions correctly, but I wouldn't recommend my method for pop quiz questions. I also thought it was stupid that there were speed reading tips to begin with, because they expressly said not to skim, but then I realized that was the Staples test, so I tried again, but skimmed this time. I got a text about the ideal way to melt cheese and 460 words per minute with 2 out of 3 questions answered correctly (though that may just be my innate knowledge about cheese).

My Read Speed Test
The test on My Read Speed is different from the other two in several ways. Firstly, you can choose what you want to read from a list of classics. I chose Emma, because I haven't read it before but heard good things. Secondly, you can adjust the size of font and spacing, so I made the font a little bigger and decreased space between the lines. Thirdly, this messed everything up. I'm not sure if it's because I made adjustments or whether it's a general flaw, but in the text spaces between the words were missing so "happy elephant" would become "happyelephant". It was still doable, but obviously this made reading a little harder and in the end I got 256 words per minute. As opposed to the other tests, this one doesn't presume to tell you where you stand in comparison to others with that speed, but it does show you how long it would take you to read other books.

Thoughts on Speed Reading Tests
While this is all very interesting in terms of procrastinatial entertainment, I do see quite a few problems with these tests. We haven't had a list in a bit, so here you go.
Where do these tests get their data for average reading speed? They all had different ranking systems, so the classification varied
As my results in the first two tests showed, my word count per minute changes considerably depending on writing style and my level of interest in the text. I was far slower reading the Wells text than the Alice in Wonderland text, because I felt like I was being thrust into a completely unfamiliar world with no context whatsoever and I didn't know or care about any of it, whereas Alice in Wonderland was familiar and easier. The same happened with the different articles in the second text, and then of course there's the difference between non-fiction and fiction as well
I read much faster when I'm engrossed in a story as opposed to when I read the first page of a book and don't know anything about it yet
There's also the difference between computer screen, books, Kindles, phones etc.
Sometimes you can read the first sentence of each paragraph and still get the gist (a loooot of academic essays), or skip entire introductions to get to what you want to know (a looooot of online advice articles), whereas with books I almost never skim, because it's not just about retaining information
You know that it's a test. The Staples test specifically asked not to skim, so I didn't, but you're still always aware that it's a test, so that can be either distracting or cause you to skim after all
In conclusion, I'd say I'm in the average to slightly above average range (which is better than slow, I guess), but it heavily depends on my level of involvement with a text. This is absolutely no surprise to me, because my elementary school report already announced to the world that "Vlora finished her assignments faster when it meant she didn't have to do them at home later". If you're interested, this Forbes article asks Do You Read Fast Enough to Be Successful? and it's more interesting than the clickbait-y title suggests.

Did you take any of the tests? How did you fare? Do you think there's any value in them? Is your reading speed important to you?