GUYS. This is it! The post you've all been waiting for with bated breath, the post that's gonna change it all, the post that… yeah, okay, I'll stop. NO I WON'T I'M EXCITED. For my first blogoversary, I asked you to take a survey about this blog, and 15 of you participated – muchas gracias! I thought you might like to see a selection of the results, so I'm sharing them with you. To make this a little more interesting, I've taken it upon me to create some charts.

How often do you comment on my blog?

Thanks to y'all for commenting so often! I was especially interested whether there are people who like reading my blog, but never comment (which is totally fine by the way), because statistics don't really make sense in my head, and I never know what so and so many hits actually means. I mostly measure how much people liked a post by how many comments it has, because that's what I actually SEE, but obviously not everyone comments, so this was interesting. Not that the survey is representative by any means.

Do you have a blog yourself?
No surprises there. I think most people who read a certain blog (semi-)regularly have a blog themselves. I suspect that other people stop by, but probably more for one off visits like reading a review. For example my fourth most popular post (after my home page and two random stacking the shelves/cake conversation posts) is this Imitation Game movie post, but it doesn't actually have a lot of comments. It's not even an actual review (did I write one??), but I guess I posted it when the movie was popular and nominated for an Oscar, so people might have been Googling for it a lot? I don't even know, maybe the stats are just off.

How did you first find my blog?
Some people couldn't remember (trust me, I wouldn't be able to either), and a lot of people said/suspected because I commented on their blog, which is what I was expecting! There were some other answers too though…

Inge at Bookshelf Reflections said you were cool, so I had to see for myself. And I heard about cake ;)
Guess I owe you a thanks, Inge. Here's a gif of Ruport Graves for you, even though I still don't get who he even is and why he's so awesome (fun fact: I Googled Rupert Murdoch first, because apparently that's the Rupert autocomplete in my head and was like no… that can't be right). Also I don't think I've ever been described as "cool", so I'm assuming they were paraphrasing.

Alyssa Carlier shared your post on Twitter.
Oh well, I might just sign over my soul to you guys before I have to do it later. Thanks, Alyssa! Here's an awkward Mulan gif for you to express my gratitude.


you told me about it
Well, aren't you a creep actually listening to what I say and checking it out. It's like… you're a good friend or something. Weird.

I think via Commenters Commenting Back (Readers in Wonderland) If you're not on that, then… who knows!
I'm on a lot of things, but not on that. Should I be??

What subjects are you interested in most?
STAHHHP, you guys. I did not expect that many people to choose the "everything you write because you're so glorious option hahaha. GOOD CHOICE. Clearly you're even more awesome than I thought. Also, where are my tv show people at? Am I the only one who spends entire weekends binge watching? IT'S PERFECTLY NORMAL, SHUT UP.


What do you like about Reviews and Cake?


Yes, this was purely a demand for shoulder clapping. I'm glad I asked though, because your answers really did give me some insight into what you're liking here.

The very first post I read on Reviews and Cake was Semicolons and Superpowers. It was hilarious, and I was hooked! One of the things that keeps me coming back is your sense of humor and your voice.
I love that haha. If you haven't read it, Superpowers and Semicolons is literally my most random post ever. So naturally I'm proud of it.

I like the discussions and the brevity that I've seen so far. I'm a new follower, so I don't know much yet.
Ah, um… I CAN BE BRIEF. Just not this time. Or last time. But sometimes! Ah hell, maybe you'll stay for the gifs or something. Lovely to have you, thanks for following!

The cake, har har. I like how you're one of my favourite bloggers and you're a really cool person. I like how you use a sense of humour in your blog posts, just like me. Also cake.
I'm sensing that was an ironic har har. You're probably right though, I think you feature more cake on your blog in a random week than I ever have on mine. I mean… of course your answers didn't gave away your identity and you remain completely anonymous. But stop saying I'm cool, it's making me uncomfortable. Also thank you for the kind words, right back at 'cha.

The writing style. You just shine through the writing so much, and it makes it a whole lot more fun to read. Your personality is really there and I love it :D
Thank you, I love your personality too! I promise it has nothing to do with the fact you just complimented me. Seriously, thanks. I genuinely appreciate it!

I like your blog name, I like reviews and cake, so that's good! And I like your random posts, I think those are the ones I comment on mostly. And I apreciate you stopping by my blog as well!
I try! I love finding new awesome blogs through comments. <3 And I also love when an evil plan works out and people are drawn in by my blog name.

You have a lovely style of writing, very down to earth, your posts are a joy to read. Your font is very easily read, sometimes people have crazy fonts and dark backgrounds which makes it very hard to read. There isn't too much stuff squashed in. Everything is easy to find.
I hear ya. Illegible fonts are probably my biggest turn off when it comes to blogs. It's like do you WANT me to strain my eyes so much that I go blind?

The part where you give me cake.
You must be new here. I'll give you cake if you tell me your address, social security number, and bank account code. Deal?

Reviews. And also, cake. Kidding, kind of. No, I love ALL the things, especially when you pretend to be two people in videos because it always makes me laugh. Your humor is just fabulous in general, so you could probably post about paint drying and I'd have a good chuckle :)
Funny that you mention it, I do have a post about paint drying all drafted up. It's part of the same series that includes a post about lawn maintenance. I was thinking about posting about grass growing as well, let me know what you think in the comments.





I'm skipping the rest of the answers, because this already feels self-indulgent as it is, but THANK YOU to all of you; I can't tell you how much I appreciate it. So many people said they like my humor and my style of writing, which is AWESOME, because I honestly had no idea. I mostly just sat here thinking I was being weird. Which I am, but apparently you like it, so prepare for more.

What could be improved about Reviews and Cake
Let's take a BRIEF look at this (see I can totally be brief).

MORE CAKE DAMMIT.

More cake. There is 'Cake' in your title, where's the cake?!

Well, there is still not any cake. And I am kind of hungry, so…
See, you ASSUME the fault lies with me, but that's actually where you're wrong. The cake in the title is merely an appreciation for the fluffy, floury goodness that is cake. I never said I'd provide YOU with cake. I have shown you copious pictures of ME getting or baking cake. This is all to encourage you to provide the world and yourself – but mostly yourself – with cake, not a promise to GIVE you cake. It was a simple misunderstanding, I'm sure you can appreciate that.




Okay, okay, fine. I'll think about it.

Hmm… more regular reviews?

more book reviews maybe! and "your link-tip of the week" or something?
I KNOW. I've been awfully lazy with them. I have like 7 books I want to review at this moment alone. I do post reviews more often on Goodreads, so if you're interested you can follow me there as well. I'll try to be better about it though!

The frequency of posting.
Dude, tell me about it. I honestly thought this would come up more often haha. DO YOU NOT MISS ME WHEN I'M GONE? Kidding, I usually don't notice these things much either, which is why I think people stress about it too much. I do however want to blog more, so I'll give my best! :)

No se! I'm going to be stalking some more ;) JK
YES, stalking is always encouraged. Welcome!

A lot of people also said they like it the way it is, that I should blog however I want or that they can't think of anything to improve. Thanks to everyone who answered; you're all lovely and constructive and basically my insides are feeling all warm and fuzzy and it's weird.

Is there anything you'd like to see more of?
Hehe, okay, I'm answering everything with "more cake" SO. I'll try be constructive here…I like everything you do! Discussions are probably my favourite. :D (Btw, this is Cait @ Paper Fury, but I think you could probably tell.)
GASP. I HAD NO IDEA. Okay, yeah, pretty much. A lot of people said more cake, but I'll just redirect you to my answer above. It's all a misunderstanding, people.


Mmmm maybe more discussions would be nice. And pictures of cake.
I DID use to post a lot more discussions. What happened to that? I'll try to think of some interesting topics in the near future!

I think it's great! Interactive content would be nice though.
I LOVE interactive content! It's more time consuming (though probably not more time consuming than this post), but they're SO much fun. I'm thinking games and stuff, but if you had another idea, let me know below!

Erm. I don't have any suggestions. I love Reviews and Cake!
Perfect. Let's move on!

Have I ever commented on your blog?
The sometimes group is a bit stronger than the often group than I'd like, but it seems like I've definitely stopped by most of your blogs, so that's good! Overall, a satisfying result I'd say.


Did you ever experience any technical difficulties?
This was an overwhelming amount of "Nope", which is GREAT. Sometimes the site takes a bit long too load for me, but it might just be my internet, and I wouldn't be sure how to fix that anyway to be honest. But I'd TRY.

Nope! Unless the cake thing is a technical difficulty? In that case, yes. I never got any cake.
YES! YES, it's all a technical difficulty! There you have it, folks, it's not my fault at all. It's TECHNICAL, my hands are bound.

Do you know I also have a youtube channel?
I thought I was going on and on about it, but apparently I need to get better at self-promotion. Six people said they've seen my videos, six people said they didn't know about it and one person said they know, but don't particularly care (fair enough!). Two people also wanted to know if I will finally give them cake if they say yes. The answer is no of course.

Take-Away
I'm so glad I did this survey! I know more about what you appreciate already and about what you might like to see in the future. Reading your answers brought a smile to my face, and made me want to keep blogging even more than I already did. Thank you again to everyone who participated – I couldn't include every answer for length reasons, but I truly appreciated every single one. And now, because you have actually made it to the end…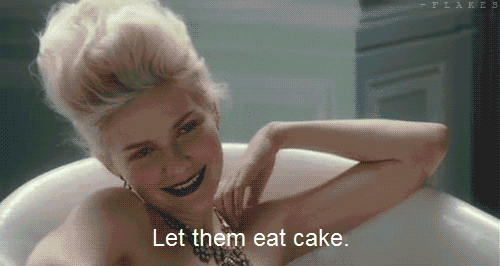 Can you think of any interactive post ideas you'd like to see? Were the answers interesting to you? Are you eighty now because it took you so long to read this post? Imagine how long it took me to write – I'll go tell my grandchildren all about it now.