The Week
As you may or may not have noticed, I've been blogging less since the semester started, so I really like these weekly wrap-up posts to tell you what's happening. I've been in a bit of a funk today for no particular reason, but tuning in to my favorite Indie station (which is running a Ramones mixtape right now – I approve), blogging and, oddly enough, cleaning seem to have done the trick, so now I'm feeling more like myself again. Moving on! This week I…

went to the university cinema (namely a lecture hall) and watched Guardians of the Galaxy again. I didn't love it the first time round, but I actually fell in love with it this time! I still think the villain sucks, but it's hilarious and awesome and all the good things.
went to a housewarming party and danced to 90s music, which is clearly the best music
watched Disney's Anastasia with my roommate, which is creepy and beautiful and another good 90s thing
only ate out, like, twice, so clearly I have impeccable self-discipline
decided that sentimental literature REALLY isn't my thing. Unfortunately, I still have to take a seminar on it
decided it's time for my yearly move to another apartment, so I'm looking for places to live (I don't actually plan to make this an annual event, but who knows – everyone has a thing. Ellen DeGeneres and her wife move around every six months, so… Actually that's totally stupid; they can afford beautiful houses, why would they move? Moving is stressful. Someone tell them)
FINALLY watched Avengers: Age of Ultron and I even got to watch it in English

Yes, I realize three of these points are movie related. What can I say, I was serious when I put "I like to watch TV shows and movies in my free time" on my room applications, people. I think I also watched another movie (L'Italien, which was more serious than expected, but good) and started the second season of Agents of S.H.I.E.L.D. (which is awesome, why am I not hearing more about it?). It's ART, okay. Jeez. I also started reading Uncle Tom's Cabin for university, but the writing style really isn't for me and I can't read any more on the subject, so I switched to Charlotte Temple, which is frustratingly self-righteous, but much better to read.

Photo of the week:


Sometimes, I can see Death Stars explode from my window.
(I should probably start taking more fascinating photos in expectation of this.)
The Shiny


I didn't actually buy this, but a friend borrowed it to me, because she read it for a seminar and liked it. I have no clue what it's about, but I'm looking forward to finding out!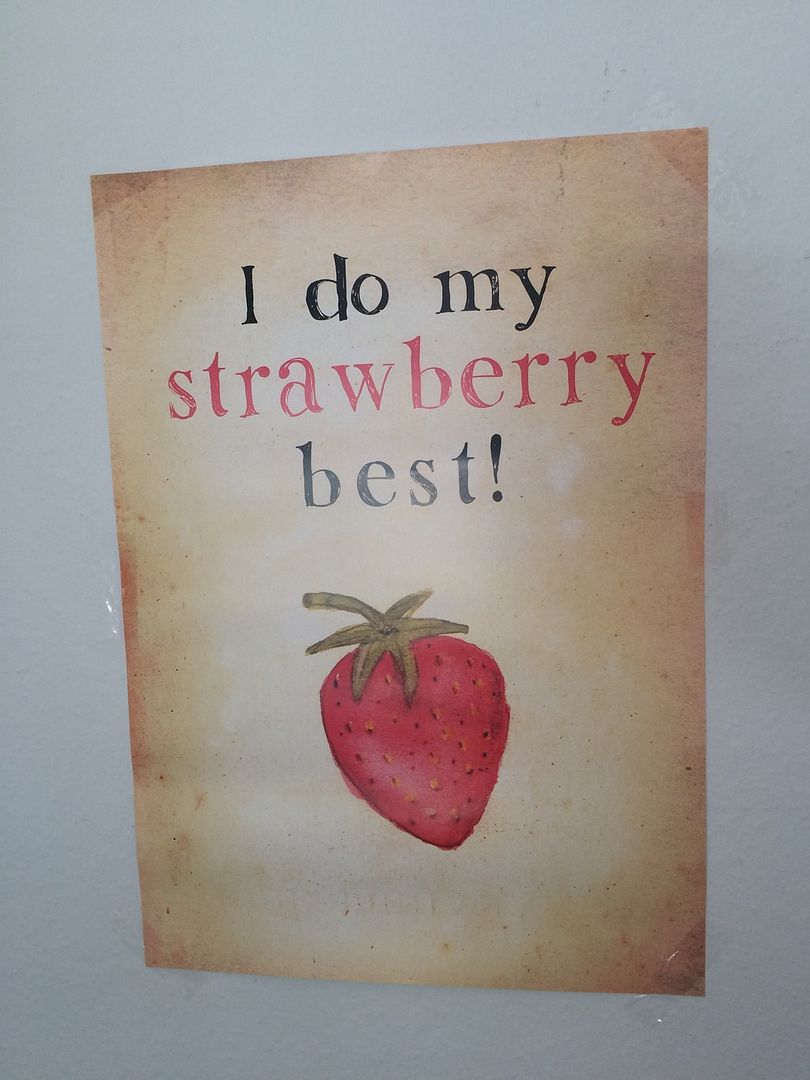 Another friend of mine came by on Monday and brought me this poster I picked out in her online shop. I think it's cute and it brightens up a dark corner in my room (of course now I'll just have to take it to my new room, but that shouldn't be a problem).

…And that's it!
I hope you had a phenomenal week. What was one good thing that happened to you the last couple of days? What was the last good movie you watched and what's the best thing you remember from the 90s? As you might notice from the lack of links in this post, I wasn't online to read much this week, so feel free to link interesting posts and articles in the comments. :)

As always, I'm linking up with Stacking the Shelves, hosted by Tynga's Reviews and the Sunday Post hosted by the Caffeinated Book Reviewer!