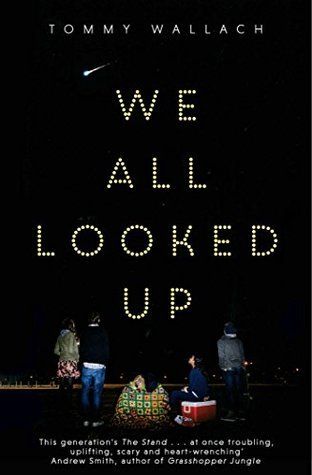 We All Looked Up is overdramatic and beautiful and frustrating and poignant. It's about growing up and finding yourself and your purpose in life. It's also about the apocalypse, but let's not get caught up in little things like that.

Before the asteroid we let ourselves be defined by labels:
The athlete, the outcast, the slacker, the overachiever.

But then we all looked up and everything changed.

They said it would be here in two months. That gave us two months to leave our labels behind. Two months to become something bigger than what we'd been, something that would last even after the end.

Two months to really live
The Bad

As you may remember from previous reviews, I'm not the biggest fan of multiple perspectives. I think they were mostly done well in We All Looked Up, and I'll mention why I enjoyed the multiple POVs later on, but sometimes (mostly in the second half of the book), events get retold from different POVs, and I always find that a little frustrating, because it slows the story down. There was a lot of high school drama, and they weren't even in school most of the time. Emotions and experiences are always heightened when you experience them for the first time, and all of the characters were fairly young, and they DO have a good reason, but sometimes the drama was a little too much for me. I was also tempted to roll my eyes at all the boys are like this, girls are like this ish, but generally the book had a very positive take on differences, sexuality, and common humanity, so I'll forgive it. I would have wished for a tighter plot, because I did get slightly bored halfway through, but that might have been because the ending was spoiled for me in another review.

The Good
This book is all about the characters. They're all such helpless teenagers, and the possible end of the world forces them to, if not grow up, at least grow as people. Or maybe I should say they're all stereotypes of teenagers: the sports star, the stoner guy, the overachiever and the school slut. All of them are labelled by each other, but the apocalypse makes them understand they're all just people. and that was fucking beautiful. In the beginning, it was super interesting to see one of the characters casually mentioned by one of the others and then to get to experience how they actually tick the next minute. They become so much more than the stereotypes that define them at the start of the book – they were always more, and it's fantastic to see them realize it. In the end, it didn't really matter that much whether the world was really going to end or not, because we're all going to die sometime, and all we can do is to live the fullest life we can possibly manage. Was that too schmoopy? Well, tough. Blame it on the book.

The Rest
I listened to this as an audiobook, and it really flows. The writing is beautiful, and there are so many quote-worthy sentences that sum up worlds of feelings in one sentence. The cover and the title fit the book perfectly, and it really captures that one moment, when they all have to look up and wait with baited breath. It embodies the hope and community and ravishing uncertainty of everything. The premise is fascinating too. An asteroid hitting the earth is actually quite probable. I was in a lecture about it once and felt like drawing up a will afterwards (yes, you can have my books, but only if you treat them nicely).

I'm giving this book 3.5 cupcakes because I wanted a tighter plot and a less teenage drama, but I enjoyed it muchly, and I can definitely recommend it.