What's New?
Me and my friend Verena (she blogs in German, but I'll link to her blog anyway, because you can look at her drawings) are going to have our own radio show soon! As you might or might not remember, I did an internship at a local radio station this summer, and I decided to ask whether I can do my own show. I convinced Verena to join me, because I thought it would be more fun together. We worked on a concept last week and presented it at the monthly meeting yesterday. They all voted yes, so we'll be going live for an hour every four weeks starting January. I'm really excited about it, because I'm sure it's going to be a lot of fun, and it's good practice if I want to do something radio-related after uni. In other news, I'm still doing NaNoWriMo, although slightly less successfully. I'm a bit stuck in my story, but I'm sure I'll figure it out and persevere.

I also edited my England vlog, so if you're interested in seeing what I got up to, you can do that here. I know, you've been waiting with bated breath.





I think my highlight was the movie tour at Alnwick Castle, where part of the Harry Potter movies were shot! Sorry about the black frame around the video. I'd fix it, but it took an entire day to upload it to YouTube (what's up with that?), so I might just leave it, or fix it at another time. I hope you enjoy!

The Shiny
Oh boy. You know how you always say my finger slipped, and I bought this or that? Well, I swear my finger ACTUALLY slipped this time. Inge recommended Holly's Inbox, so I went to amazon to check it out. I thought about buying it, because it's an epistolary novel, and I LOVE epistolary novels, but the paperback was kind of pricey and would have taken ages to arrive, so I considered making a rare exception to my no-ebook rule. I hadn't even finished the thought before I'd already bought the book. Amazon's one click function is a real hazard when you tend to make spontaneous decisions. I need a 12 step program.




You'd think that's enough, but nope. I visited a friend in Bonn last weekend, and obviously we did the three essential things you have to do when you visit a new city: eat at an Italian restaurant (molto bene), go to the cinema (Spectre, best opening shots I've seen in a while), and… visit a bookstore. The bookstore we went to had two rows of cinema seats to chill and read and tons of English books, and basically I could have stayed all day.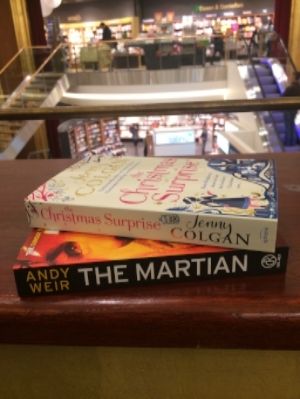 I bought The Martian, because I recently watched the movie and LOVED it, and I also got The Christmas Surprise, because I'll want something to get me in a festive mood in December. I also bought another Christmassy book, but it's a present, so it doesn't count. And then I might have downloaded an ebook of the entire collection of fairy tales by the Brothers Grimm, but it's research for my book, so it also doesn't count. Oh, and another one of my university books arrived, but I can't be bothered to take a photo now, so I'll include it next week. You see now why I need the 12 steps.

On the Blog
I'm posting so much lately that it actually makes sense to make a list. No one is more surprised than I am, trust me.
Tune of the Week
One of my biggest first world struggles is that I often want to listen to music while doing something else (like editing a video or writing) that really doesn't allow it. I'm happy to say that I've found a solution to at least one of these! Epic soundtracks of all sorts are great as background music for writing, because a) they don't have lyrics and thus don't prompt my brain to want to sing along and b) you can literally write about your characters going grocery shopping and it will feel like they're preparing for a battle that will decide the destiny of our world. I wonder if that's what the script writers of that one Marvel oneshot where Coulson incapacitates his enemies with a bag of flour were listening to when they wrote it. I'm thinking yes.



How was your week? Have you read or want to read any of these books? What other random objects would be fun in a fight? Prompt me, and I might include it in my story!

As always, I'm linking up with Stacking the Shelves, hosted by Tynga's Reviews and the Sunday Post hosted by the Caffeinated Book Reviewer!